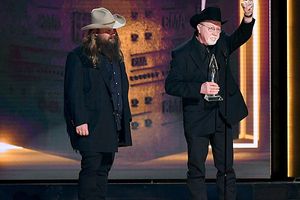 What an honor to win this CMA award for Best Song- "Broken Halos". 
 
Here's a small recap:
CMA Award for song of the year: Chris Stapleton and Mike Henderson won the first trophy of the night for "Broken Halos." Stapleton said: "I didn't expect this one. Man, thank you. So many great songs in that category. And I wrote this one with one of my dear friends and heroes, Mr. Mike Henderson," Stapleton said. Hennderson thanked his wife, his family and his lucky stars for letting him live in Nashville where he said that all the cool stuff happens."